Porsche 911 -78, Pictures
Reengineering of the aerodynamics include design of: cooling inlets/outlets, cabin air inlet and outlet, splitter, underbody, diffuser. Work also included placement of water/oil-coolers, intercoolers, wing setup, engine air intake/outlet design and chassis setup i.e. adjustment of camber, toe, dampers and springs.
www.koenigsegg.com, Illustrations, Picture and link.
Patented aerodynamics applied to their CCX-model. This increase flow into the engine thus increase power output.
www.altran-academy.com, Pictures and link.
International innovation competition arranged by Renault F1 and Altran. I participated with my "super wing" described under Products => Super wing. I was the only competitor from the Scandinavian countries and competed with people from other parts of the world.
Raceengineer responsible for setup of a Porsche Carrera Cup race car. Responsible for: coaching the driver and setup of springs, swaybars, aerodynamics, dampers, camber-, caster-, toe-angles, tyre pressure and temperature.
www.kthracing.se, Pictures, movie
Responsible for the general aerodynamics of the project and especially the air inlets and outlets for the cooling. Also project manager for the economics report written for the competition.
Research
During my time at Royal Institute of Technology I had the opportunity to do some research in the the field of flow alteration with the goal to reduce drag for commercial vehicles. Movies from those tests are found below. Reports on the issue can be found under "downloads".
Movies: right-click on link or picture and "download target as". If you want to use the movies for educational purposes please contact me for a high-resolution version.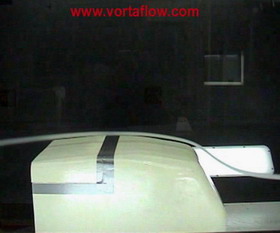 Movie shot at KTH windtunnel, airflow over a generic body.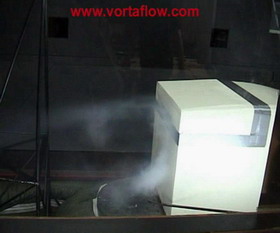 Movie shot at KTH windtunnel, wakeflow behind a generic body.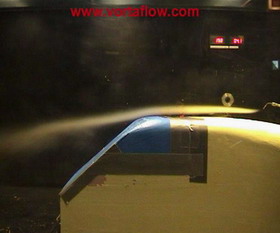 Movie shot at a windtunnel facility in Västerås. airflow without flow-diverting technology.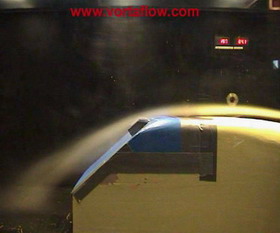 Movie shot at a windtunnel facility in Västerås. airflow with flow-diverting technology.
Movie show airflow through wheel wells powered by a fan blowing the air into the wake thus reducing drag.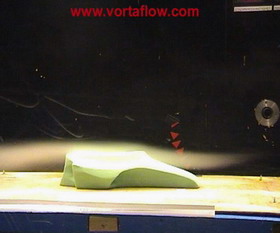 Airflow over a model made of the KHT Racer #1.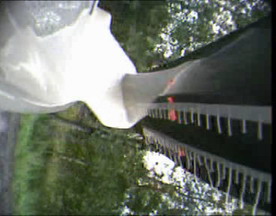 Some results from a wing-setup.